History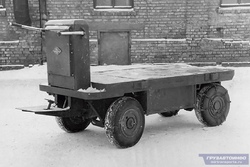 The history of the company began in March 1941, when the decision about the creation of a plant has been made and manufacturing process of air field mechanization was accepted. Metalwork tools, blowtorches, fire extinguishers and other elementary equipment was the first production portfolio of the factory.
In 1945 the manufacture of more complicated products: refuellers, washing and lifting units, has been adjusted. The new stage of growth of the enterprise and the development of product lines began in 1948. Elaboration of new complex products was headed by talented designer V.F. Rentel. Effective samples of airfield equipment have been created on the basis of the best truck chassis of that time. Simple and useful machines with lifting vans, in which aviation hydraulic systems and automatics were widely applied, were worked out.
Since 1961 our company has been known as the Civil Aviation Experimental Plant No. 85. Every year the list of products of the factory grew. Elaboration of those machines was conducted by excellent designers and workers. During this period the basic product lines were generated:
- special purpose vehicles
- the equipment for terminals and cargo warehouses
- Refuelling equipment
After the period of perestriks and restoration of independence of Latvia our factory has found a new life due to the efforts of co-operating personnel which has kept its mental potential and experience in new conditions.
In 1993 the factory received the name "LAS-1" Company Ltd. and it now continues a long-term operational experience in the field of technological equipment of the airports.
Main advantages
Wide working temperature range

Experience and traditions

Multi-language support

Up-to-date design solutions

Price / Quality

In compliance with standards
Our Products
"LAS-1" is a developer, manufacturer and supplier of technological equipment for airports